Hosted Phone Systems
When you're running a business, a cloud-based hosted phone system, also known as cloud PBX or virtual PBX, gives you all the benefits of VoIP without having to store sensitive data at a designated center. A hosted PBX service also provides you with the same communication capabilities as with on-premises VoIP phone systems, minus the hassle of maintaining expensive equipment. At Inter-Tone Networks in Midland, we are an experienced office phone supplier that specializes in the design, sales, installation, and servicing of hosted phone systems. Whether your enterprise is large or small, our team can recommend an affordable PBX system that addresses your business' unique telecom needs.
Your Reliable Virtual PBX Provider
At Inter-Tone Networks, we offer business clients unified communication solutions by partnering with trusted virtual PBX service providers like Mitel, SpectrumVoIP, ESI, and HostMyCalls. As a business, taking advantage of those sophisticated features provides you with benefits that include ease of setup, built-in video conferencing capabilities, instant messaging, greater flexibility and scalability, CRM integration, and voicemail to email transcription. We offer on-call certified technicians and a local parts warehouse to ensure that your cloud PBX phone system performs optimally even when you aren't there. When you're ready to make the switch to a hosted phone system, contact the business communication experts from Inter-Tone Networks!
Our Partners

Mitel Cloud Connect
Your all-in-one cloud communications, collaboration and contact center service
MiCloud Connect is a complete cloud business communications service that delivers seamless voice, collaboration and contact center solutions from a single provider. By combining an intuitive user experience and flexible service plans with Google Cloud's proven reliability, MiCloud Connect makes every aspect of cloud communications and collaboration simple and secure.
Key Features:
Robust client for settings, call control, chats and events
Available for PC, Mac, iOS and Android
Audio and video conferencing with web sharing
Built-in VPN
Individual and group chat
Team collaboration with persistent workspaces
Business SMS
Native integrations with leading CRMs and calendars
Softphone and web dialer
Mobile-first design
Integrated contact center
IP desk phones

Host My Calls
Your Hosted PBX/VoIP Service Provider
HostMyCalls provides best in class quality service and outstanding features at an amazingly affordable price. The Hosted PBX service is provided from a network of state-of-the-art IP-PBX systems. Feature rich, business grade, VoIP telephone sets can be located wherever you need them.
Key Features:
Truly Unlimited Local & Long Distance Calling
Mobile Phone Integration
Automated Attendant
Voicemail
Electronic Faxing
Short Message Service (SMS)
Multimedia Messaging Service (MMS)
Virtually Unlimited Call Capacity
Work from Home
Automatic Call Distribution
Virtual Telephone Numbers from Most Anywhere in the United States and around the world
Disaster Recovery Call Routing
HostMyCalls Award
HostMyCalls Received the 2021 Company of the Year Award for Top VoIP Solution Providers by Enterprise Networking Magazine.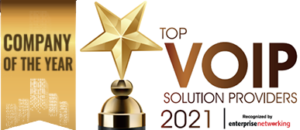 SpectrumVOIP
Cloud-hosted VoIP custom-tailored for your business
With no upfront costs, getting a new business phone system with SpectrumVoIP has never been easier! Offering state-of-the-art technology, white-glove service, training, and installation, plus 50+ features included at no additional charge.